Liana Reznik, owner and executive creator behind Fancy Shmancy in Highland Park, IL., is a recognized Nue Academy certified Master Trainer in 3D Areola, Scar Camouflage, and Stretch Mark Camouflage in Illinois.
Changing the lives of women through permanent makeup services in Chicago and the surrounding areas, Fancy Shmancy has been featured in several publications, including Chicago North Shore Moms, and on the Walgreens podcast.
Start a journey to self-love
STEP 1
Schedule an In-Person or Virtual Consultation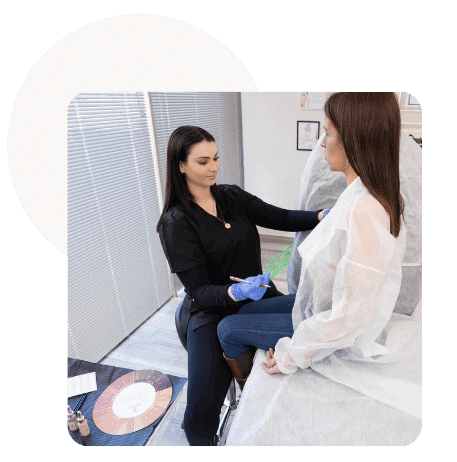 STEP 2
Plan Your Visit or Follow Precare Instructions
STEP 3
Follow Aftercare Instructions & Enjoy Results
Clients are ecstatic about the results
Did my eyebrow shading with Liana today. I tried 3 different professionals over the course of years doing my eyebrows tattoo. I must say Liana is absolutely most knowledgeable, professional and talented permanent make-up artist in Chicago and Suburbs! She took her time and spent with me hrs by measuring my face with tools, explaining the process and finally creating the eyebrows I craved! Thank you and I will be back for other services!
- Alina D
Omg!!! I'm so excited!!! Liana you did an outstanding job on my eyebrows she's sooooo amazing and knowledgeable about her products!!! Thanks so much love I literally started crying lol girls it's will change your life I highly recommended coming to book an appointment with her ASAP!!!
-Victoria W
Liana helped do some permanent makeup on my lips to cover up a scar. She did a wonderful job matching the color and performing the procedure. She also was very communicative throughout the whole process, before, during and after. I was also impressed by how thorough she was. didn't have to do such a complete job on my whole lower lip because the scar only covered a small part, but she wanted to make sure the result looked natural. I appreciated that a lot. I was also impressed by the cleanliness of the environment and comfort level. Liana is awesome and I will definitely go back for other procedures.
- LizaW
Liana is amazing!! I went there to have my lashes done and they are fabulash! Cute, clean setup. I definitely will be back for some spa treatments and microblading!
- Jessica A